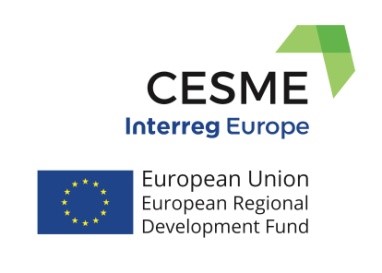 Circular Economy for SMEs (CESME)
CESME is an innovative project that will enable Small and Medium Enterprises (SMEs) to turn the environmental challenges they face into opportunities.
At the heart of the project is the concept of circular economy, which is a key parameter of the Green Economy and Green Growth. In this context, the transition from a linear to a circular economy is attempted, where all the outputs of a production process are reused as inputs to another production process.
Despite the benefits, policymakers need to fully understand the dynamics of the circular economy to help SMEs overcome the barriers they face in making their products, production processes and business practices more environmentally friendly. SMEs rarely have contact with knowledge networks, so that they are informed about new technologies, or to facilitate their communication with potential customers or investors. They are also deprived of sufficient financial resources to take advantage of the opportunities of the Circular Production Chain. Therefore, it is important to understand how SMEs can make better use of existing opportunities and how to tailor policies on the issue to suit business needs.
The CESME project will provide a roadmap for achieving this goal. Through the exchange of experiences on such policies and SME support packages, the highlighting of good practices, the evaluation of the economic and social benefits of the value of the circular economy, as well as the drafting of a White Paper, SMEs will be assisted and entered step by step in the circular economy. These initiatives will be implemented, monitored and updated, while their expected impact will be monitored. Finally, the results of the project will be reproduced as tools for use by EU countries.
CESME is an initiative of the Business Development Center of North Denmark, which is the Lead Partner, and of the Region of Northern Denmark. The project scheme includes a total of ten (10) partners, from six (6) European countries:
Metropolitan City of Bologna (Italy),
ERVET SpA – Emilia Romagna Development Agency (Italy),
Regional Council of South Ostrobothnia (Finland),
JPYP Business Service (Finland),
Bulgarian Association of Municipal Environmental Experts (Bulgaria),
Welsh Government (UK),
ANATOLIKI SA, Local Development Company of Eastern Thessaloniki (Greece),
Region of Central Macedonia (Greece).