CONTEMPORARY
& EFFECTIVE
DEVELOPMENT
PROJECTS




A ZERO
WASTE SOCIETY
VISION IN WASTE MANAGEMENT
WE ARE TURNING
THE PAGE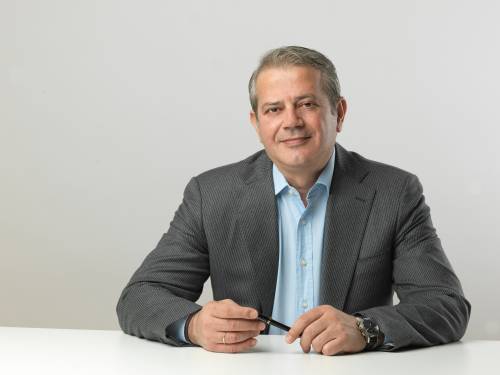 Regional Association of Solid Waste Management Agencies of Central Macedonia, aiming at the circular economy, aspires to act as a catalyst through various actions for the support of the green concept. With this philosophy, it works in an organized way, creating infrastructures that improve the whole process from the collection, disposal, sorting and, of course, the landfill of waste.

The goal set by Central Macedonia is to lead less than half of the generated waste to the waste factories in a mixed form. We will move on to the 3rd generation of waste management, without seeing demons in technologies, but by adopting the good practices that have been successfully applied for years in all the advanced countries of the world.

For the reason that we deserve a society without other fines and fees for the citizens. The Solid Waste Management Agencies for Central Macedonia is now able to guarantee that solid waste management will not be one more problem to be added to the list, but an opportunity for wider development.
President of the Regional Solid Waste Management Agencies for Central Macedonia
Chairman of the Board of Directors of the Municipality of Pylaia Chortiatis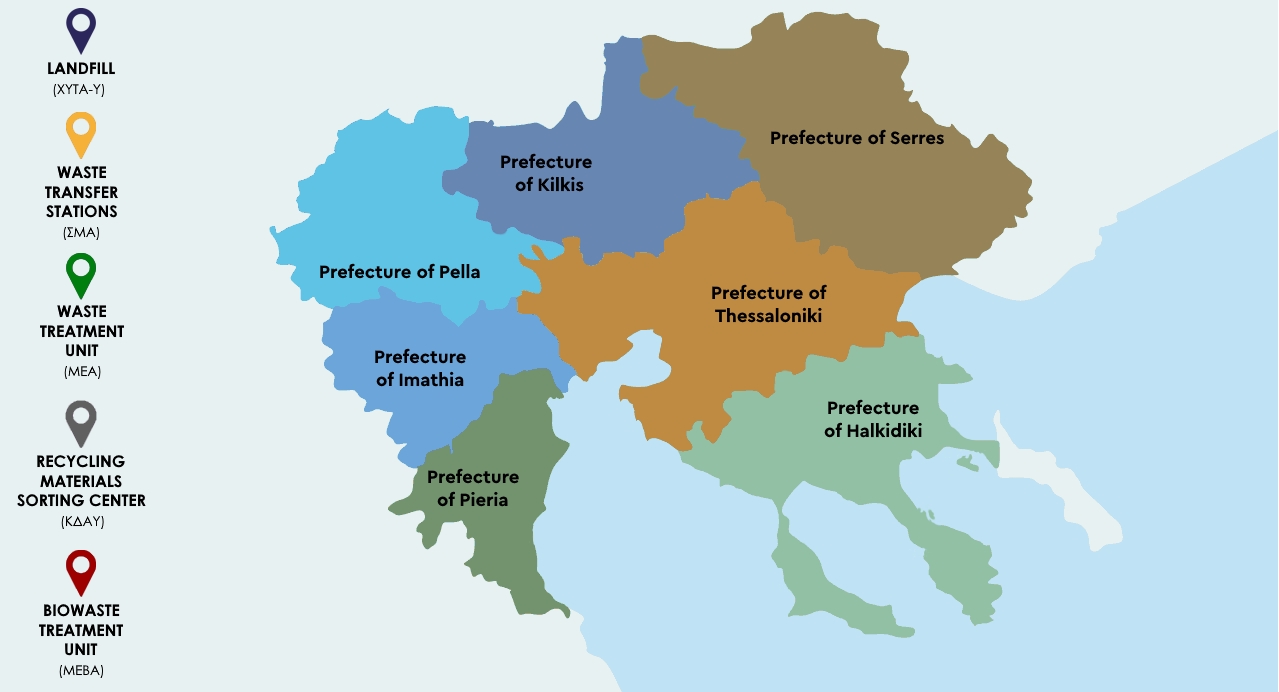 | | |
| --- | --- |
| Project | LANDFILL OF EDESSA |
| Status | Active |
| Regional Unit | Pella |
| Spot | Aspro Kefali, Municipality of Edessa |
| Coordinates | 40.838130601, 22.081693606 |
| Telephone | +302311236100 |
| | |
| --- | --- |
| Project | LANDFILL OF ALMOPIA |
| Status | Active |
| Regional Unit | Pella |
| Spot | Mavrolakos Sikies, Eksaplatanos – Municipality of Almopia |
| Coordinates | 40.92713638, 22.141538009 |
| Telephone | +302311236100 |
| | |
| --- | --- |
| Project | BIOWASTE TREATMENT UNIT OF PELLA |
| Status | Funding Stage |
| Regional Unit | Pella |
| Spot | "Kritikos" spot, Giannitsa-Pella |
| Coordinates | Χ: 367821.472, Υ: 4523773.378 (Lat: 40.856957, Lon: 22.433536) |
| | |
| --- | --- |
| Project | LANDFILL OF GIANNITSA |
| Status | Active |
| Regional Unit | Pella |
| Spot | "Kritikos" spot, Giannitsa-Pella |
| Coordinates | 40.85403408, 22.434525827 |
| Telephone | +302382029432 |
| | |
| --- | --- |
| Project | LANDFILL OF KASSANDRA |
| Status | Inactive |
| Regional Unit | Chalkidiki |
| Spot | Palaiokastro of Kassandreia Municipality |
| Coordinates | 40.031603596, 23.441214193 |
| Telephone | +302311236100 |
| | |
| --- | --- |
| Project | LANDFILL OF LITOHORO |
| Status | Active |
| Regional Unit | Pieria |
| Spot | Ksirokabi, Litohoro, Municipality of Dion-Olympus |
| Coordinates | 40.128967522, 22.523525013 |
| Telephone | +302311236100 |
| | |
| --- | --- |
| Project | BIOWASTE TREATMENT UNIT OF PIERIA |
| Status | Funding Stage |
| Regional Unit | Pieria |
| Spot | Next to Landfill of Katerini |
| Coordinates | Χ: 371485.15, Υ: 4467997.25 (Lat: 40.355240, Lon: 22.488351) |
| | |
| --- | --- |
| Project | LANDFILL OF KATERINI |
| Status | Inactive |
| Regional Unit | Pieria |
| Spot | Boufolakas, Municipality of Katerini |
| Coordinates | 40.355507983, 22.489362784 |
| Telephone | +302311236100 |
| | |
| --- | --- |
| Project | LANDFILL OF ANTHEMOUDA |
| Status | Active |
| Regional Unit | Chalkidiki |
| Spot | East of Sikies, Galatista, Anthemoudas, Municipality of Poligiros |
| Coordinates | 40.394599978, 23.20949484 |
| Telephone | +302371110120 |
| | |
| --- | --- |
| Project | LANDFILL OF ARNAIA |
| Status | Active |
| Regional Unit | Chalkidiki |
| Spot | Koniari 1, Arnaia |
| Coordinates | 40.51605, 23.572904 |
| Telephone | +302311236100 |
| | |
| --- | --- |
| Project | WASTE TREATMENT UNIT OF SERRES |
| Status | Existing |
| Regional Unit | Serres |
| Spot | Eripia Neraidas, Palaiokastro-Skotoussa, Municipality of Iraklias |
| Coordinates | 41.18803,23.44474 |
| Telephone | +302321088222 |
| | |
| --- | --- |
| Project | LANDFILL OF SERRES |
| Status | Active |
| Regional Unit | Serres |
| Spot | Eripia Neraidas, Palaiokastro-Skotoussa, Municipality of Iraklias |
| Coordinates | 41.190868445, 23.441420696 |
| Telephone | +302311236100 |
| | |
| --- | --- |
| Project | WASTE TRANSFER STATION OF NEA ZIHNI |
| Status | Active |
| Regional Unit | Serres |
| Spot | East of settlement of Mesorachi |
| Coordinates | 41.014951,23.654913 |
| Telephone | +302311236100 |
| | |
| --- | --- |
| Project | WASTE TRANSFER STATION OF IERISSOS |
| Status | Active |
| Regional Unit | Chalkidiki |
| Spot | Stagira, Akanthos, Giftissa spot |
| Coordinates | 40.3843435254, 23.8298300513 |
| Telephone | +302311236100 |
| | |
| --- | --- |
| Project | WASTE TRANSFER STATION OF SITHONIA |
| Status | Active |
| Regional Unit | Chalkidiki |
| Spot | Nikiti – Asproneri |
| Coordinates | 40.2272850592, 23.6943747406 |
| Telephone | +302311236100 |
| | |
| --- | --- |
| Project | WASTE TRANSFER STATION OF ALEXANDRIA |
| Status | Funding Stage |
| Regional Unit | Imathia |
| Spot | Ammos Region, Imathia |
| Coordinates | Χ: 370494.52, Υ: 4497908.07 (Lat: 40.624458, Lon: 22.470585) |
| | |
| --- | --- |
| Project | WASTE TRANSFER STATIONS OF EFKARPIA |
| Status | Active |
| Regional Unit | Thessaloniki |
| Spot | Efkarpia |
| Coordinates | 40.7035132696, 22.9547446639 |
| Telephone | +302310685099 |
| | |
| --- | --- |
| Project | WASTE TRANSFER STATION OF EPANOMI |
| Status | Funding Stage |
| Regional Unit | Thessaloniki |
| Spot | Kamiles Region, Epanomi-Thessaloniki |
| Coordinates | Χ: 406405.21, Υ: 4480278.87 (Lat: 40.470509, Lon: 22.897683) |
| | |
| --- | --- |
| Project | WASTE TRANSFER STATION OF KILKIS |
| Status | Under Construction |
| Regional Unit | Kilkis |
| Spot | Kristoni of Municipality of Kilkis |
| Coordinates | 40.97382, 22.88371 |
| | |
| --- | --- |
| Project | BIOWASTE TREATMENT UNIT OF KILKIS |
| Status | Funding Stage |
| Regional Unit | Kilkis |
| Spot | Kristoni of Municipality of Kilkis |
| Coordinates | 40.97382, 22.88371 |
| | |
| --- | --- |
| Project | LANDFILL OF KILKIS |
| Status | Active |
| Regional Unit | Kilkis |
| Spot | Kristoni of Municipality of Kilkis |
| Coordinates | 40.97382, 22.88371 |
| Telephone | +302341027750 |
| | |
| --- | --- |
| Project | RECYCLING MATERIALS SORTING CENTER OF TAGARADES |
| Status | Active |
| Regional Unit | Thessaloniki |
| Spot | Scholari |
| Coordinates | 40.4584081, 23.038451431 |
| Telephone | +302392032158 |
| | |
| --- | --- |
| Project | BIOWASTE TREATMENT UNIT OF EAST SECTOR OF CENTRAL MACEDONIA REGION |
| Status | Preliminary Phase |
| Regional Unit | Thessaloniki |
| Spot | 'Saint Antony' Vasilika-Thermi-Thessaloniki |
| Coordinates | Χ: 419900.94, Υ: 4476460.69 (Lat: 40.437524, Lon: 23.057341) |
| | |
| --- | --- |
| Project | WASTE TREATMENT UNIT OF EAST SECTOR OF CENTRAL MACEDONIA REGION |
| Status | Preliminary Phase |
| Regional Unit | Thessaloniki |
| Spot | 'Saint Antony' Vasilika-Thermi-Thessaloniki |
| Coordinates | Χ: 419900.94, Υ: 4476460.69 (Lat: 40.437524, Lon: 23.057341) |
| | |
| --- | --- |
| Project | WASTE TREATMENT UNIT OF WEST SECTOR OF CENTRAL MACEDONIA REGION |
| Status | Under Competition Procedure |
| Regional Unit | Thessaloniki |
| Spot | approx 2.2km south-east of Landfill of Mavrorahi, Lahanas of Municipality of Lagkadas, Thessaloniki |
| Coordinates | Χ: 419380.08, Υ: 4523568.35 (Lat: 40.861795, Lon: 23.045172) |
| | |
| --- | --- |
| Project | BIOWASTE TREATMENT UNIT OF WEST SECTOR OF CENTRAL MACEDONIA REGION |
| Status | Maturation |
| Regional Unit | Thessaloniki |
| Spot | approx 2.2km south-east of Landfill of Mavrorahi, Lahanas of Municipality of Lagkadas, Thessaloniki |
| Coordinates | Χ: 419380.08, Υ: 4523568.35 (Lat: 40.861795, Lon: 23.045172) |
| | |
| --- | --- |
| Project | LANDFILL OF MAVRORAHI |
| Status | Active |
| Regional Unit | Thessaloniki |
| Spot | Kleftika-Erithra Kameli, Lahans, Municipality of Lagkadas |
| Coordinates | 40.846154623, 23.079488656 |
| Telephone | +302394028050 |
| | |
| --- | --- |
| Project | LANDFILL OF POLIGIROS |
| Status | Active |
| Regional Unit | Chalkidiki |
| Spot | Kastri of Municipality of Poligiros |
| Coordinates | 40.402433197, 23.41451759 |
| Telephone | +302371021220 |
The project concerns the expansion of the landfill with the construction of its B phase,
ΠΕΡΙΣΣΟΤΕΡΑ >>